Diesel Generator
THE BEST QUALITY PRICE RATIO ONT THE MARKET – DIESEL GENERATORS – 3 TO 12 CYLINDERS
TIGER-200YC – 198 kVA Generator
GENERAL DATAS :
PRP : Prime Rated Power : 180 kVA / 144 kW
ESP : Emergency Standby Power : 198 kVA / 158,4 kW
Voltage : 230-400V
Power factor : 0.8 (cosΦ)
Rotation speed : 1500 rpm
Number of phases : 3
Frequency : 50 Hz
Fuel tank autonomy at 75% : 12 hours
Engine specifications :
Number of cylinders : 6
Governor type : electronic
Specifications : 4-cycle engine, direct fuel injection , liquid-based cooling
Displacement : 7,25 L
Maximum standby power at rated rotation 1500tr/min : 155 kW
Maximum standby power at rated rotation 1500tr/min : 210 Cv
Compression ratio : 17,5:1
Engine starting type : electrical 24V
Air inlet system : Turbocompressed-intercooler
Alternator specifications :
Excitation system : Self Excited
AVR : Stamford
Voltage regulation type : electronic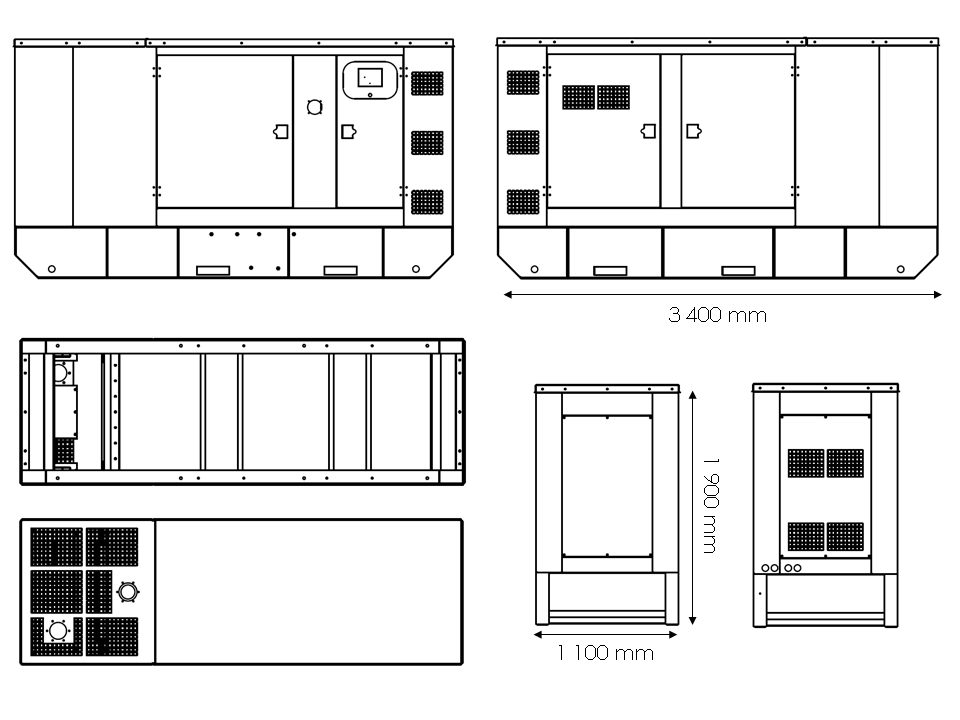 Designed to meet high demands, this 200 kVA diesel genset from the Tiger range guarantees power for your electrical installation in the event of an outage. It secures supply to premises and equipment for hotels, construction sites, packing plants, farms, greenhouses, vineyards, sawmills and water treatments stations.
Fitted with a 4-pole thermal-magnetic circuit breaker with adjustable differential and a Deep Sea control panel, it is also available as an option with an automatic transfer switch.
Available in enclosed, containerised and open versions, it benefits from a 1-year warranty or 500 hours, whichever comes first and it also offers a B100 option.
Discover some of our projects: Isolated construction site, grain farm, power to a village in Vanuatu and a water lifting plant in Mayotte.
This genset is equiped with four poles thermal magnetic circuit breaker with ajustable differential switches and with a DEEPSEA control panel. An automatic transfer switch system can be added.