Lighting masts
From 9 to 70 kVA
NEW :
DISCOVER OUR BRAND NEW RANGE OF LIGHTING COLUMNS
ROBUST / RELIABLE / SECURE / AUTONOMOUS / MOBILE
S

UPPLYING AUTONOMOUS LIGHTING

Thanks to an integrated generator, GELEC Energy lighting masts allow for the autonomous supply of light.

With an 8.5 m telescopic mast, 340° rotation and 4 x 320 W LED lamps, they provide lighting for a minimum area of 5,000 m².
A

MOBILE LIGHTING UNIT BY GELEC ENERGY

GELEC Energy lighting columns are robust and therefore designed to adapt to all types of environment:

– Lighting for events
– Construction site lighting
– Emergency lighting
– Lighting for difficult to access areas
– Lighting for the oil and gas and mining industries
– Lighting for mining applications

Thanks to their trailer, they can be moved very easily.
Folded dimensions: L 1830 x W 1370 x H 2560 mm
Unfolded dimensions: L 2320 x W 2570 x H 8500 mm
Lighting area: 5000 m²
Lamps : LED 4 x 320W
Single-phase voltage: 3.5 kVA – 230V
Tank capacity: 80 L
Hours of use: 145 H
Noise level at 7m: 65 dBA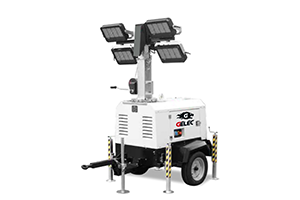 Dimensions when folded: L 2320 x W 1380 x H 2420 mm
Dimensions unfolded: L 2320 x W 1550 x H 8500 mm
Lighting area: 5000 m²
Lamps : LED 4 x 320W
Single-phase voltage: 3.5 kVA – 230V
Tank capacity: 110 L
Hours of use: 200 H
Noise level at 7m: 65 dBA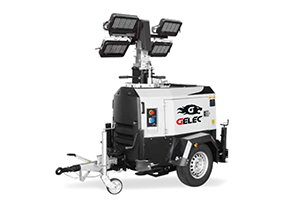 OUR OTHERS GENERATORS
DIESEL, B100
THERMAL GENERATOR

Designed to respond to the requirements of cottage industry, salespeople, farmers or anyone who needs to secure or power their activity at the best price/quality ratio […]
B100 GENERATOR

Developed by GELEC's technical teams, B100 generators use the latest bi-fuel technology. These latest generation generators, specially designed to operate using straight oils […]
Our services
Installation - maintenance, After-sales service, leasing, financing