Diesel Generator
THE BEST QUALITY PRICE RATIO ONT THE MARKET – DIESEL GENERATORS – 3 TO 12 CYLINDERS
TIGER-180YC – 179 kVA Generator
GENERAL DATAS:
PRP: Prime Rated Power: 163 kVA / 130 kW
ESP: Emergency Standby Power: 179 kVA / 143 kW
Voltage: 230-400V
Power factor: 0.8 (cosΦ)
Rotation speed: 1500 rpm
Number of phases: 3
Frequency: 50 Hz
Fuel tank autonomy at 75%: 13 hours
Engine specifications:
Number of cylinders: 6
Governor type: electronic
Specifications: 4-cycle engine, direct fuel injection , liquid-based cooling
Displacement: 7,26 L
Maximum standby power at rated rotation 1500tr/min: 182 kW
Compression ratio: 17,5:1
Engine starting type: electrical 24V
Air inlet system: Turbocompressed, air-air intercooler
Alternator specifications:
Excitation system: Self Excited
AVR: Stamford
Voltage regulation type: electronic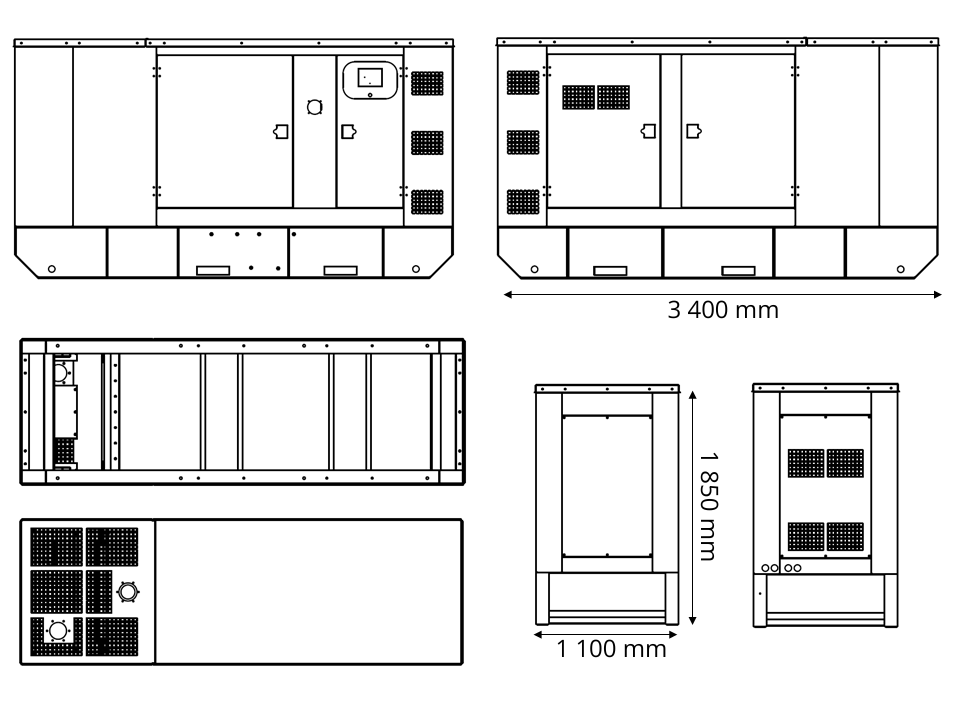 The 6-cylinder diesel generator with 179 kVA emergency power guarantees an impressive resistance to the most violent load calls. All the electrical equipment is in 24 volts and ensures an immediate start.
It can be used to secure a hotel, a construction site, a packaging centre, an industrial breeding, a greenhouse, a farm such as a vineyard, a sawmill, a water treatment plant…
Available in a hooded, containerised or open version, it is guaranteed for 3 years or 1000 hours in mainland France. 1 year or 500 hours warranty for international and French overseas departments and territories.
The TIGER range is designed to operate 24 hours a day at 70 or 80% load for tens of thousands of hours.