Diesel Generator
THE BEST QUALITY PRICE RATIO ONT THE MARKET – DIESEL GENERATORS – 3 TO 12 CYLINDERS
TIGER-140YC – 138 kVA Generator
GENERAL DATAS:
PRP: Prime Rated Power: 125 kVA / 100 kW
ESP: Emergency Standby Power: 138 kVA / 110 kW
Voltage: 230-400V
Power factor: 0.8 (cosΦ)
Rotation speed: 1500 rpm
Number of phases: 3
Frequency: 50 Hz
Fuel tank autonomy at 75%: 9 hours
Engine specifications:
Number of cylinders: 6
Governor type: electronic
Specifications: 4-cycle engine, direct fuel injection , liquid-based cooling
Displacement: 6,87 L
Maximum standby power at rated rotation 1500tr/min: 132 kW
Compression ratio: 17,5:1
Engine starting type: electrical 24V
Air inlet system: Turbocompressed, air-air intercooler
Alternator specifications :
Excitation system : Self Excited
AVR : Stamford
Voltage regulation type : electronic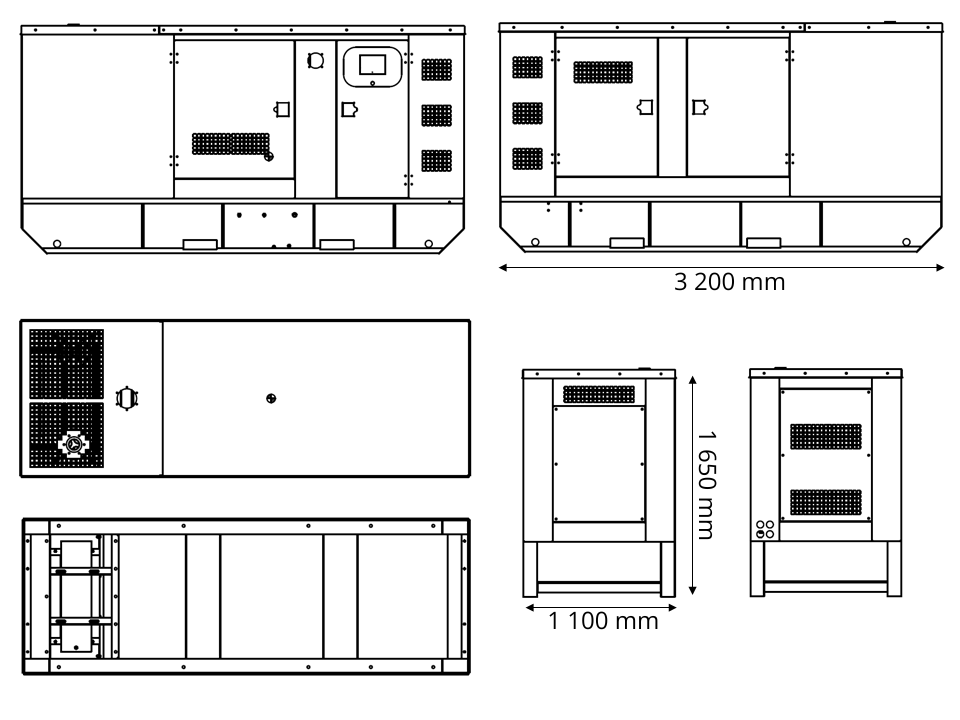 Three-phase 138 kVA diesel generator from the Tiger range. It will provide emergency power to the electrical installation in the event of a power cut. It can be used to secure a hotel, a construction site, a packaging centre, an industrial breeding operation, a greenhouse, a vineyard, a sawmill, a water treatment plant, etc.
Available in a hooded, containerised or open version, it is guaranteed for 3 years or 1000 hours in mainland France. Warranty 1 year or 500 hours for international and DOM-TOM.