Diesel Generator
THE BEST QUALITY PRICE RATIO ONT THE MARKET – DIESEL GENERATORS – 3 TO 12 CYLINDERS
PANTHER 42YC – 41.25 kVa GENERATOR
GENERAL DATAS :
PRP : Prime Rated Power : 37,5 kVA / 29,6 kW
ESP : Emergency Standby Power : 41,25 kVA / 32,8 kW
Voltage : 230-400V
Power factor : 0.8 (cosΦ)
Rotation speed : 1500 rpm
Number of phases : 3
Frequency : 50 Hz
Fuel tank autonomy at 75% : 20 hours
Engine specifications :
Number of cylinders : 4
Governor type : electronic
Specifications : 4-cycle engine, direct fuel injection , liquid-based cooling
Displacement : 4,214 L
Maximum standby power at rated rotation 1500tr/min : 44 kW
Maximum standby power at rated rotation 1500tr/min : 59,84 Cv
Compression ratio : 17,5:1
Engine starting type : electrical 24V
Air inlet system : Turbocompressed
Alternator specifications :
Excitation system : Self Excited
AVR : Stamford
Voltage regulation type : electronic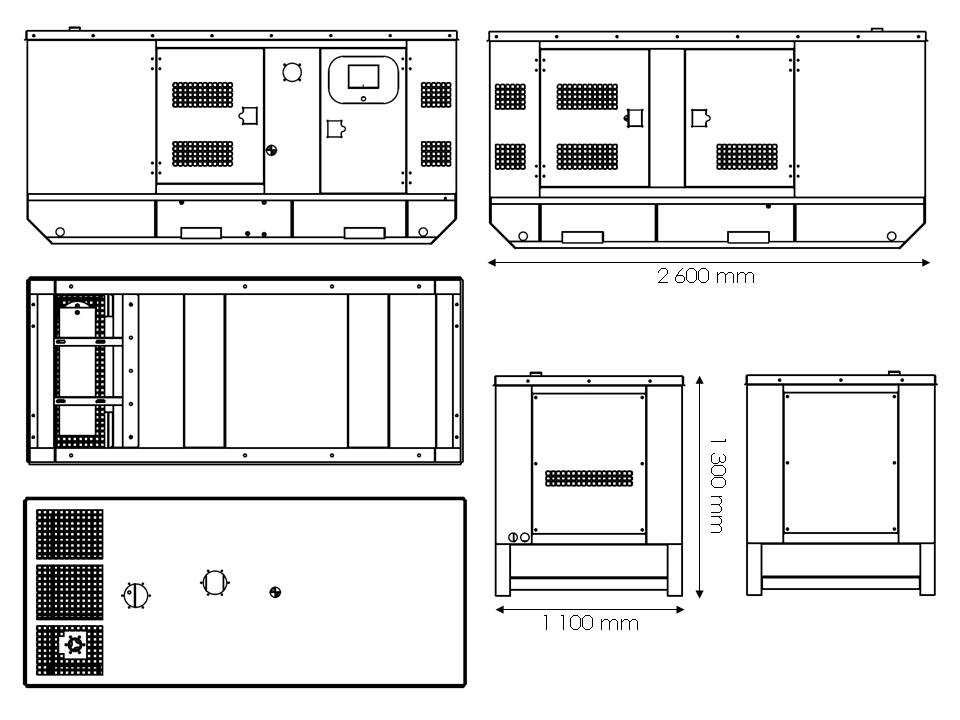 With a robust, soundproof enclosure, the PANTHER 41.25 kVA diesel genset is available in single-phase and three-phase versions.
It produces a reliable source of primary, additional or back-up power. It is able to power houses, offices, farms, workshops and all kinds of electrical devices such as cranes, concert equipment, milking robot, fairground rides, cold rooms…
Combined with a lighting tower, it can provide light for night construction work, or can be fitted with a socket board to power a wide variety of tools.
Available in single-phase and three-phase versions and fitted with electronic control.
This genset is equiped with four poles thermal magnetic circuit breaker with ajustable differential switches and with a DEEPSEA control panel. An automatic transfer switch system can be added.
OPTIONS:
For enhanced mobility, discover the trailer-mounted genset.
Cogeneration system: simultaneous production of thermal and electrical energy
Bi-Oil option :  Genset operating using vegetable or recycled oil instead of diesel.
Genset generators Gelec Energy