Diesel Generator
THE BEST QUALITY PRICE RATIO ONT THE MARKET – DIESEL GENERATORS – 3 TO 12 CYLINDERS
LION-690YC – 688 kVA Generator
GENERAL DATAS:
PRP: Prime Rated Power: 625 kVA / 500 kW
ESP: Emergency Standby Power: 688 kVA / 550 kW
Voltage: 230-400V
Power factor: 0.8 (cosΦ)
Rotation speed: 1500 rpm
Number of phases: 3
Frequency: 50 Hz
Fuel tank autonomy at 75%: 12 Hours
Engine specifications:
Number of cylinders: 6
Type of regulation: AVR
Governor type: electronic
Specifications: 4-cycle engine, direct fuel injection , liquid-based cooling
Displacement: 19,60 L
Maximum standby power at rated rotation 1500tr/min: 616 kW
Compression ratio: 14:01
Engine starting type: electrical 24V
Air inlet system: Turbocompressed, air-air intercooler
Descriptif technique alternateur:
Excitation system: Self Excited
AVR: Stamford
Voltage regulation type: electronic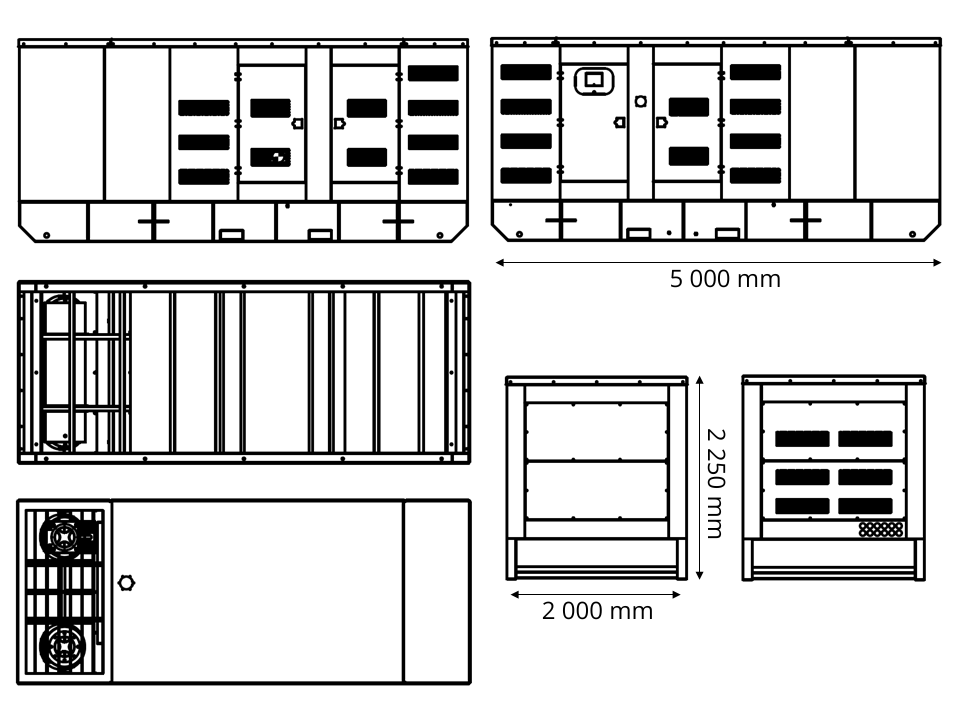 The LION range, with a power range from 415 to 2000 kVA, has been specially created to support high demands. GELEC has integrated large displacement engines, from 6 to 12 cylinders. The aim is to obtain maximum torque to withstand high load calls and to enable our diesel generators to deliver up to 2000 Amps, as this demand can occur suddenly.
This type of generator, which is used in industrial environments, must also meet very high production requirements over long periods in order to ensure, for example, permanent production.
This 688 kVA, 6-cylinder diesel generator set meets the needs of industry, the army, civil security, telecommunications, power stations, construction, logistics warehouses, shopping centres and hypermarkets, high-rise buildings (IGH) and public institutions such as gendarmeries, courthouses, etc.
This industrial generator is equipped with a 4-pole magneto-thermal circuit breaker with adjustable differential. It can be fitted with an optional source inverter and comes with a 3-year or 1000-hour warranty in mainland France. It has a 1 year or 500 hours warranty in the DOM-TOM and abroad.